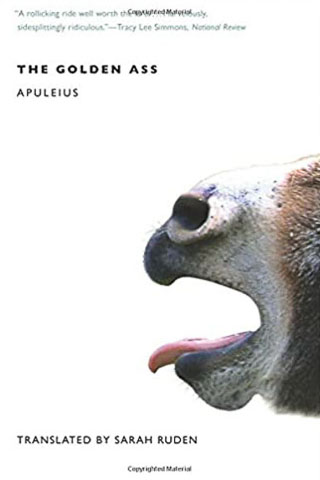 A young man plays with magic, is transformed into a donkey, and experiences the 2nd-century Roman Imperial world in this form. The Golden Ass is the first intact work of prose fiction in the West, and an important ancestor of the modern novel.
"A cause for celebration…. We owe Sarah Ruden a great debt of thanks for [this] English translation that is no less inventive, varied, and surprising than the original."
—G.W. Bowersock, New York Review of Books
"Well, let me weave together various sorts of tales, using the Milesian mode as a loom, if you will. Witty and dulcet tones are going to stroke your too-kind ears—as long as you don't turn a spurning nose up at an Egyptian papyrus scrawled over with a sharp pen from the Nile. I'll make you wonder at human forms and fortunes transfigured, torn apart but then mended back into their original state. Now to my preface. 'Who's writing there?' you ask. In a few words: my ancient stock is from Attic Hymettus and the Ephyrean Isthmus and Spartan Taenarus. All that fertile sod has been immortalized by books more fertile still. There, as my boyhood began, I served my first tour of literary duty in the Athenian tongue. Then as a foreigner in the Latian city I invaded the speech native to the Quirites' curriculum, settled on it, and worked it for all it was worth – and it was harrowing, as I had no teacher walking ahead and pointing out what to do.
So here I am, pleading in advance to be let off if I commit some offense, as I'm still a greenhorn: to me, the speech of the Roman forum is outlandish. But this very change of language suits the genre-jumping training I have undertaken. The story we are starting has a Greek original, you see. Give heed, reader: there is delight to be had."