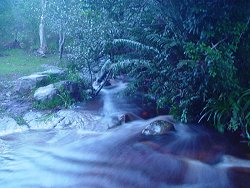 Among the trees the stunted girl
Turned back, into the hidden world.
The ragged boy ran on ahead,
Home to the kingdom of the dead.
But I will never let them go,
Come the concrete, come the snow,
Come the colors in the night,
My high window in the light.
I will go along behind,
Mute and lame and deaf and blind.
There is no effect or cause
To guess, no statutory clause
To cite, no tourist magazine
To tell what mystery I have seen.
But I will never let them be,
Come the highway, come the sea,
The radio, the dunes around,
The open window's glare of sound.
I trail the children to the birth
Of none of us in all the earth.